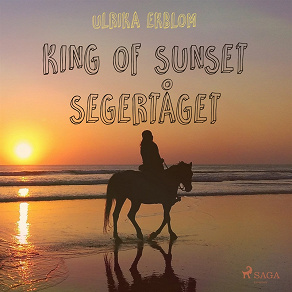 Isbn:
978-87-2603-005-1
Publisher:
Saga Egmont
Category:
Children's books
Accessible since:
July 2018
Narrator:
Linnea Stenbeck
Length: 3 hours 48 minutes
---
King of Sunset : segertåget
Martina kunde först inte tro på det. Sunset hade äntligen återhämtat sig från en längre tids sjukdom och enkelt vunnit nästa lopp. Sjukdomen tycktes bara ha gjort honom snabbare. Plötsligt nås Martina av meddelandet från veterinären – Sunset är diskvalificerad! Orsak: doping. Någon vill skada Sunset, men vem?
Ulrika Ekblom (f. 1961) författade åren 1993-2000 serien i fem delar om Martina och King of Sunset. Hon är även skrivit om cirkushästen Pricken och fotbollslaget Smedstorps BK. Hennes böcker handlar om relationer, tävling och allt som oftast kärleken till hästar.
Listen to sample
---