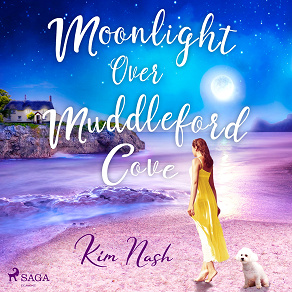 Moonlight Over Muddleford Cove
With red-rimmed eyes, Nellie dials the number on the thick solicitor's letter. When she hangs up a minute later, she's not sure whether to laugh, or start crying again. All she knows is that her life has changed forever...

Nellie can hardly remember a happier time than the summers she spent at her Aunt Lil's colourful beach house in the tiny seaside town of Muddleford. She has treasured her memories of the sea glistening beyond the sandy cove, and of a stolen kiss with a boy called Jack. When her life comes crashing down in spectacular fashion, followed by the discovery that she has inherited EVERYTHING from her aunt, suddenly Muddleford seems to be calling her home...

She hasn't been back for twenty years, not since her mum cut off all ties with Aunt Lil, but as soon as Nellie returns she's welcomed back by the town. And she learns that everything really does mean everything – as well as getting used to gossiping with the locals over wine with sand between her toes, Nellie must adjust to life with her aunt's excitable poodle.

And Nellie isn't the only one who's grown up. She's shocked to find Jack still in town. Now a devilishly handsome vet, he has the local pet owners – and Nellie – swooning over him, and as they become close once more, she's sure she can feel sparks flying. But just as she thinks she might be able to open her heart again, she learns a secret about Jack that changes everything.

Now Nellie has a painful choice to make. Should she sell the house, forget about Jack, and the mystery of why her mother and aunt parted ways? Or should she take a big risk on the life, and love, that Muddleford has to offer?

An utterly uplifting and heartwarming summer read about learning to trust yourself and of finding love and friendship in the least expected places for fans of Carole Matthews, Nicola May and Milly Johnson.

????? 'Wow just wow... just brilliant. Will make you smile, laugh and pull at your heart strings... an easy 5 stars.' Baker's Not So Secret Blog

????? 'Fab, fab, fab! If I had a checklist of everything a fabulous feel-good read should have, this book would tick all the boxes. ' Stardust Book Reviews

????? 'I absolutely loved my trip down to Muddleford Cove, in fact so much so I couldn't put the book down. The seaside backdrop of the story becomes a much-loved place you would like to visit. It's 5 fat stars from me!' Nicola May, author

?????'LOVED this warm, touching - and uplifting read, with laughs along the way. Well written by a great storyteller. Highly recommended!' Sue Watson, Author

????? 'There are lots of inspirational messages, a brilliant community, a superb setting and so much more to enjoy in this delightful romantic comedy. I thoroughly enjoyed reading it and can't recommend it highly enough!' Splashes Into Books

????? 'An uplifting, delightful book of hope, growth, sunshine, laughter and friendship with more than a smattering of romance.' Crooks on Books

????? 'An absolute delight of a book. A real heartwarming story. I just couldn't put it down.' StefLoz Book Reviews

????? 'A wonderfully heartwarming and uplifting read that I absolutely adored.' By the Letter Book Reviews

????? 'An unmissable book that will fill your heart with joy.' Eatwell2015

Kim Nash lives in Staffordshire with son Ollie and English Setter Roni. She is PR & Social Media Manager for Bookouture and is a book blogger at www.kimthebookworm.co.uk

Kim is a member of the Romantic Novelists Association and won the RNA's Media Star of the Year in 2016.

When she's not working or writing, Kim can be found walking her dog, reading, cheering on Ollie at football and binge-watching box sets on the TV. She's also quite partial to a spa day and a gin and tonic. Kim runs a book club in Cannock, Staffordshire.
Listen to sample
---