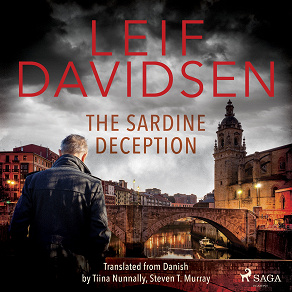 Isbn:
978-87-2683-093-4
Publisher:
Saga Egmont
Category:
Crime & Mystery
Accessible since:
December 2021
Narrator:
Sam Devereaux
Length: 6 hours 37 minutes
---
The Sardine Deception
In a series of complex double-crosses a menacing mystery builds: Who is the 'Sardine' behind the killing?

'The Sardine Deception' is Leif Davidsen's author debut book from 1984. The novel takes place in the Basque Country, where a young Danish woman has been killed during an ETA attack. Her husband, Poul, travels to Spain to retrieve the coffin and is involuntarily drawn into political intrigues involving Basque freedom fighters, the Spanish government, civil guards and fascist infiltrated police.

A great read for people that loves thrillers and mysteries, and anyone that loves Danish series such as Borgen, The Killing and The Bridge.

Leif Davidsen (1950) is one of Denmark's most popular authors. He made his radio debut in the seventies as a freelance journalist, a job that led him to travel frequently and which became a source of inspiration for his political thrillers. Davidsen made a name for himself as a writer in the 1990's. His works often describe the condition of contemporary man in a constantly evolving political world.
Listen to sample
---