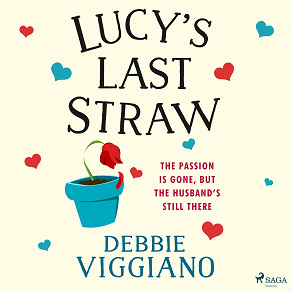 Lucy's Last Straw
It was the toothpaste smeared around the sink that broke my marriage. As I rubbed it away AGAIN, I was reminded of everything else I've put up with these twenty-five years. My husband's obsession with his pension, his ability to charm me into every single one of his ideas, never being taken on a romantic date, let alone ravished on the patio (like the woman who lives next door)... small things, but the realisation was huge.

Just when Lucy Jones thinks her marriage is about to screech to a halt over toothpaste, her husband, Leo, announces he wants to move to tumbledown (clapped-out) Rose Cottage, and Lucy knows she'll be the one managing the renovations.

Then along comes gorgeous builder Will, ten years younger and the only person actually listening to Lucy. His twinkly eyes and blowtorch smile are causing Lucy to break out in a hot sweat – but is it love, lust or simply dodgy hormones that are causing her heart to flutter?

Lucy loves her husband, but everyone knows that little things build up. And then they explode. Can Lucy keep it together, or will there be one last straw she might not be able to get over?

A laugh-out-loud romp with an ending that will make you gasp! Perfect for fans of Tracy Bloom, Sophie Kinsella and Dawn French.

What readers are saying about Lucy's Last Straw:
'My favourite book this year... had me literally LAUGHING OUT LOUD... This book had me laughing, crying and rooting for Lucy on all the way. I loved it and recommend it for everyone!' Being Miss Meg, 5 stars

'Absolutely hilarious. It is so easy for any woman to relate to this book... sooooo good. I read this in just a few hours as I simply couldn't put it down. Go and grab your copy now. It's one everyone will be talking about this year.' Goodreads reviewer, 5 stars

'Wow!... Honest, heartfelt and totally hilarious! Such an amazing read, I found myself either smiling or laughing constantly... Bl**dy brilliant!! I love it!... a must read for every woman this summer.' Goodreads reviewer, 5 stars
'Made me smile, giggle and laugh out loud. I loved it and would recommend it to anyone.' Goodreads reviewer, 5 stars

'Funny from the very beginning until the end, and there were some laugh out loud moments which I loved... I was reading this at 2am!... had me giggling away. I ended up reading this in one sitting, I just couldn't put it down. Thanks for one hell of a laugh Debbie!' The Bookend Reviews, 5 stars

'Loved this book from the very first word... It is the sort of book that I would love to be reading whilst laying on a hot beach... with so many twists and turns it keeps you hooked.' Goodreads reviewer, 5 stars

'My first read of Debbie Viggiano, and I can't wait to read more!... Entertaining from beginning to end.' Goodreads reviewer, 5 stars

'You will be hard pressed to not find something both lovable and relatable in the character of Lucy Jones, who is reminiscent of Bridget Jones had the latter been on HRT. I laughed my way right through this charming and addictive read.' Goodreads reviewer, 5 stars

'Funny from beginning to end... a real laugh-out-loud book, that not only had me giggling away, but quite often nodding in recognition of some of the situations.' A Good Book and a Brew, 5 stars

'OMGoodness – what a treat... a chuckly book, with good characters and a light heart.' Goodreads reviewer, 5 stars



Prior to turning her attention to writing, Debbie Viggiano was, for more years than she cares to remember, a legal secretary. She lives with her Italian husband, a rescued pooch from Crete, and a very disgruntled cat. Occasionally her children return home from university bringing her much joy... and piles of dirty laundry.
Listen to sample
---