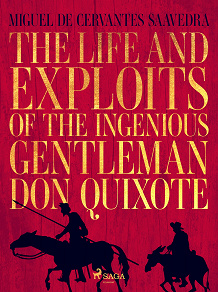 The life and exploits of the ingenious gentleman Don Quixote de la Mancha
Don Quixote is often named as the novel most likely to be on your shelf, but unread.
It is almost as though the eponymous hero of the novel and wannabe knight is laying down a chivalric challenge.
For Cervantes' epic tale of adventure, imagination and globetrotting is regarded as one of the first ever novels - and it retains all of its power today.
Quixote is entranced by stories of chivalry and sets off around the world with his squire, Sancho Panza, to become a knight errant.
The adventures become gradually more fanciful, including tilting at windmills and getting into fights with friars.
At the same time, the relationship between Quixote and Panza goes through subtle changes.
Don Quixote has been portrayed on screen many times, including most recently in Terry Gilliam's spoof movie 'The Man Who Killed Don Quixote', starring Adam Driver and Stellan Skarsgard.
In 2000, John Lithgow, Bob Hoskins and Isabella Rossellini starred in 'Don Quixote'.


Miguel de Cervantes Saavedra (1547-1616) was a Spanish writer whose epic novel 'Don Quixote' made his name.
The story is regarded as the first modern novel and one of the greatest books of all time.
As is often the case with writers and artists of his time, Cervantes spent most of his life in poverty.
He left Spain for Rome in 1569 to work for a cardinal, before joining the Spanish Navy, being badly wounded in 1571, then being captured by Barbary pirates and held for five years before being ransomed.
He worked as a purchasing agent, then a tax collector, and his first novel, 'La Galatea', was published in 1585.
His other works included '12 Exemplary Novels', 'The Travails of Persiles and Sigismunda' and the epic poem 'Journey to Parnassus'.
'Don Quixote' was published in two parts, in 1605 and 1615.
---