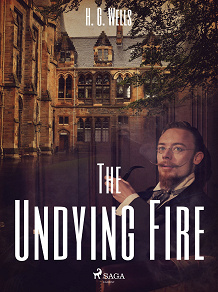 The Undying Fire
Think of the beliefs which you hold most dear. How much suffering could you take before you gave them up?

It's a question at heart of the Old Testament's Book of Job. And in "The Undying Fire", H.G. Wells writes his own version. The action takes place in a private school in England. The headmaster, Job Huss, is a principled man with an unshakable faith in the human spirit. But his principles are tested by a series of horrible events, including the death of his son in WW1.

A novel of ideas, "The Undying Fire" is Wells at his most thought-provoking. It reveals yet another side to the author. If you only know him for his science fiction, it's well worth exploring.

H.G. Wells (1866–1946) was an English author often called the "father of science fiction". His work popularised some of the genre's most abiding concepts, such as time travel and parallel universes, while also exploring social issues of the day. Among his most famous books are "The Time Machine", "The Island of Doctor Moreau", "The Invisible Man" and "The First Men in the Moon".

Wells was also one of the first writers to imagine an alien invasion. In "The War of the Worlds" he depicts a devastating attack by Martians, who stalk the earth in huge metal tripods. Orson Welles famously created an American radio version in the 1930s, panicking some listeners who thought it was a real news bulletin. The book has been adapted for the screen many times, including a movie starring Tom Cruise and a BBC television series.
---