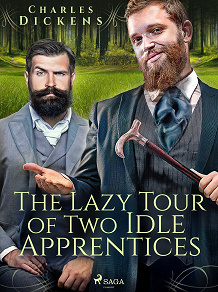 The Lazy Tour of Two Idle Apprentices
"If you were to go up in a balloon, you would make for heaven; and if you were to dive into the depths of the earth, nothing short of the other place would content you."

These are the words of characters Thomas Idle to Francis Goodchild; but they are really the words of authors Wilkie Collins to describe his friend, Charles Dickens.

'The Lazy Tour of Two Idle Apprentices' is a collaborative novel produced by Dickens and Collins, in which they poke fun at themselves and at one another. It also boasts two ghost stories which are a marvel to read from these two great masters.

Set in Autumn 1857. Two men set off for an idle adventure through the countryside of the English Lake District and the Fells. "They had no intention of going anywhere in particular; they wanted to see nothing, they wanted to know nothing, they wanted to learn nothing, they wanted to do nothing. They wanted only to be idle." A novel to be enjoyed by fans of Bill Bryson's writing or the film adaptation of his book 'A Walk in the Woods', starring Robert Redford and Emma Thompson.

Regarded by many as the greatest novelist of the Victorian era, Charles Dickens is renowned for creating some of the world's best known fictional characters who feature in his most popular novels, including The Artful Dodger in 'Oliver Twist', Ebenezer Scrooge in 'A Christmas Carol', and Miss Havisham in 'Great Expectations'. Dickens' timeless novels and short stories are still widely read today and many have been adapted into countless TV programmes and films including the Academy Award-winning musical 'Oliver', and 'A Christmas Carol' which well known worldwide and is a huge favourite movie for families to watch together at Christmas time.

London-born Wilke Collins (1824-1889) became known in Victorian England for his novels and plays, sometimes writing together with Charles Dickens. His most famous works, 'The Woman in White' (1859) and 'The Moonstone' (1868), are examples of the first modern detective novels.
---