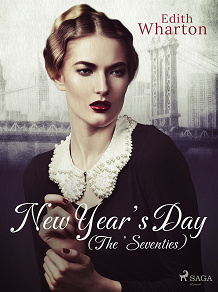 New Year's Day (The 'Seventies)
Set against the rigid social backdrop of New York in the 1870s, 'New Year's Day' tells the tale of Lizzie Hazeldean, who needs to find a way of making money. With her husband ill and ladies of leisure looking down their respective noses at her, she is faced with some difficult decisions. Old New York is beautifully described in this, the last of Wharton's novellas set here, and the social conventions of the time don't escape her critical eye. With an unexpected plot twist, this is a superb read for Wharton fans and those who want to get to know her work.

Edith Wharton (1862 – 1937) was an American designer and novelist. Born in an era when the highest ambition a woman could aspire to was a good marriage, Wharton went on to become one of America's most celebrated authors. During her career, she wrote over 40 books, using her wealthy upbringing to bring authenticity and detail to stories about the upper classes. She moved to France in 1923, where she continued to write until her death.
---